Murphy's Distillery Bottomless Brunch
A bottomless brunch of Murphy's Gin, Prosecco or Brewdog Lost Lager + 1 item from the food menu by Baby E Coffee & Deli. Live music/DJ.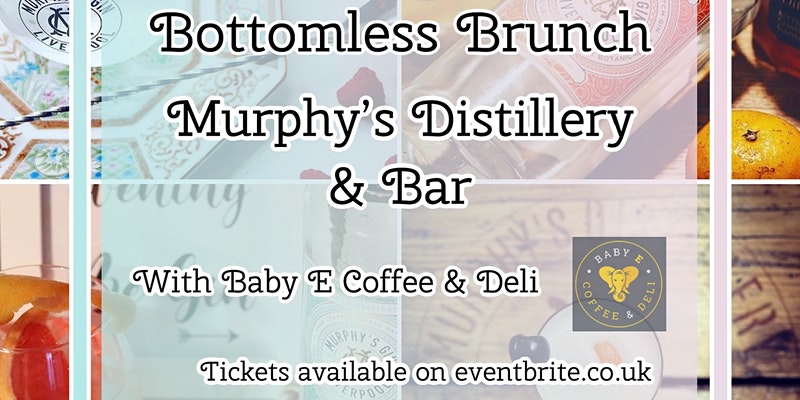 A bottomless brunch with a choice of a glasses of Murphy's Gin, glasses of Prosecco or glasses of Brewdog Lost Lager (draught) plus one item from the food menu provided by the delightful Baby E Coffee & Deli.
Live music or DJ to play during the event and live music will also be playing in the bar after the event. If you wish to stay we recommend booking a table to avoid disappointment.
Please arrive to be seated by 12.45 for the brunch to begin at 1pm. Last orders 2.45pm to be served by 3pm.
If you intend to come as a group we highly recommend that you book your tickets as a group, which will allow us to reserve a table for you all together.
Table service will be provided and it is one drink per person at any one time. You may order your next drink only once your current drink is finished and you can change between the drinks on offer as you wish. Other drinks off menu will be available to buy if you wish.
Please email your food order to info@murphys-gin.com at least 3 days in advance of the event. Please give you lead booking name so we can allocate your food order to your booking. Should you not provide your food order in advance, you will be served Eggs Benedict with Ham as standard. We will try to be flexible where we can be, but as food is freshly ordered and prepared we may not be able to change orders at late notice.
We encourage responsoble drinking and management reserves the right to refuse drinks if guests are considered to be unreasonably wasting drinks or acting irresponsible in their drinking. Thank you for your understanding.
15 August 2021
13:00 - 15:00